What soundtrack will you have for your grand entrance?
Ceremony Music – give it some thought….
Ok, so you've picked that special song that you're going to walk down the aisle to. Whether it's the traditional "here comes the bride" or a Def Leopard song its sure to be something that is truly you! Here are some points to consider about your ceremony music.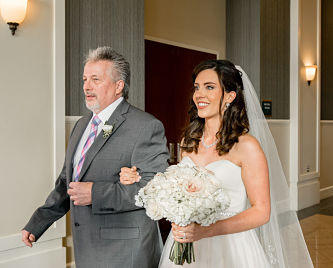 Lots of brides walk down the aisle to their song and either stand there waiting for the song to end or the music is suddenly topped mid verse by who-ever is playing your iPod! Think about how long it will take for you and your wedding party to walk down the aisle and adjust things accordingly.
Have you thought about using multiple pieces of music in your ceremony?  Music used through-out your ceremony can tie it all together rather than having lots of disjointed sections one after the other.
Playing a selection of music as the guests arrive can create the atmosphere you want for your wedding. And will also help to avoid that embarrassing silences that can happen while a group of people (who may not know each other) awkwardly wait together for the ceremony to start. You will need at least 30mins worth of music. Feel free to mix it up with an eclectic selection of music.  Think Classical, Frank Sinatra, Buble, Elton John, ABBA and Coldplay and anything else that everyone can hum along to. The choice is yours!!
Play a song while you both sign the registry.  Not only will it enhance the ceremony atmosphere it will also cover up the trivial conversations your guests will be having while they wait for you to do all the official business.
Choose a song to play while you walk out of your ceremony.  The recessional song is traditionally something more upbeat and lively than the song used to walk in. Play something that is in line with the theme of your ceremony or surprise your guests with a song that they weren't expecting to put a smile on their face.
One final thing to consider is a sound check for whatever style of music you have chosen for your ceremony. If you're going with a string quartet make sure that they are not too overpowering in the space selected for your ceremony, or check your iPod is hooked up to the speakers and is set to an appropriate level, Most importantly check with the manager of your ceremony space if there are any limitation regarding music at your ceremony venue. I.e. no sound system, terrible acoustics for your string quartet or a ban on certain styles of music.