Couple of the Month – February – Kristel and Ash
1. Why did you decide to have dance lessons?
My birthday was coming up and my mum always has a hard time thinking of things to get me. I'd been thinking it would be nice for Ash and I to do a first dance but didn't want it to be one of those awkward swaying numbers that have made me cringe a little bit at other weddings. I did some googling and found Dance Events – loved what I saw and told mum that this was the one.
2. How or why did you pick your song for your 1st dance?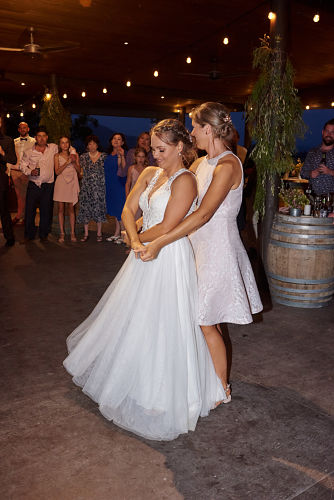 Ash and I had a couple of songs in mind. We ended up going with "My Girl" but this wasn't the song that we chose during our first lesson. We started learning a routine to Black Eye Peas "Dirty Bit". We walked out feeling good about it and then as the week went on we realised that it wasn't the one after all. We called Kate and expressed this to her and on thinking about it a little harder, decided that "My Girl" was the right song. Kate was amazing and on board instantly – we learnt our dance in 2 lessons thanks to her amazing teaching skills.
3. How long before the wedding did you start your dance lessons?
6 weeks – my mum bought us a voucher for 3 lessons.
4. What was the most important thing you wanted to get out of your wedding dance lessons?
More than anything I wanted to feel confident going out there and doing a dance with all eyes on us. Dancing has never been a great skill of mine so I knew that if I had some lessons and learnt a few moves we'd both feel really good on the day – it's such a big moment, so being comfortable and confident is so important.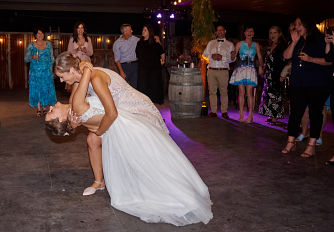 5. How did the dance turn out on the day?
Ash and I made sure we practiced each night until we did the dance without any mistakes – so I'm very happy to say that it turned out even better than we were hoping it would. Better than this, we both had a blast while we were dancing.
6. What was the crowds reaction to your dance?
The reaction was great – everyone loved the song choice for us. Lots of cheering and clapping at the right moments. Once it was over my Dad came over to me and said "glad to see my money was well spent darling" – a big compliment from him!
7. How did you feel straight after your dance was performed?
I was pumped after the dance. By this point I'd made my speech and all the big moments were over – it was time to let my hair down and dance the rest of the night away with all of our favourite people.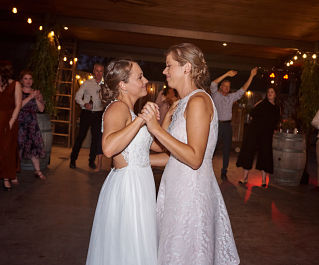 8.What advise do you have for future couples?
Probably think a little harder about that song choice then we did for a start! But if you do start to have doubts about that song then talk to Kate – she's so good and will do everything she can to make sure your moment is perfect. Make sure you don't just rely on the lessons and practice your dance every chance you get – the extra practice at home really is key. Finally make sure you take the time to enjoy yourself. Everyone says it but it really is insane how fast the time flies on your wedding day. Enjoy it!!
Note from Dance Events – If you would like some help choosing the right song for you click here for some song inspiration.