Couple of the Month – March – Laura and Alex

Why did you decide to have dance lessons?
We loved the idea of having a memorable first dance, however, lacked the skill to choreograph one! We also loved the sanctioned couple time it allowed where we focussed on us, rather than the stress of organising a wedding!
How or why did you pick your song for your 1st dance?
We chose "I can't help myself" by Four Tops. It was a song that we heard on a road trip and thought it would be a fun and timeless wedding song.
How long before the wedding did you start your dance lessons?
We started dance lessons with Kate one month before our wedding which was the perfect amount of time.
What was the most important thing you wanted to get out of your wedding dance lessons?
Some sweet moves! Ultimately it was a chance to work on something together that we could perform in front of our nearest and dearest on our big day. The time spent at lessons and practising thereafter was a really enjoyable part of the wedding build up.
How did the dance turn out on the day?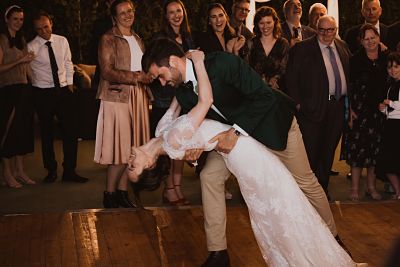 Great! We were so excited we didn't get the chance to get nervous! The showstoppers brought the house down!
How did you feel straight after your dance was performed?
Elated, in love and a little relieved! Overall, buzzed! It was the perfect entré to getting everyone on the dance floor.
What advice do you have for future couples?
Do it! Kate was super excited, so accommodating and had a wealth of experience. She put us at ease, making the daunting prospect of dancing at our wedding something really enjoyable.