Couple of the Month- October – Bec and Trahern
1.Why did you decide to have dance lessons?
We decided to take dancing lessons because we wanted a
little wow factor to our day. Neither of us knew how to dance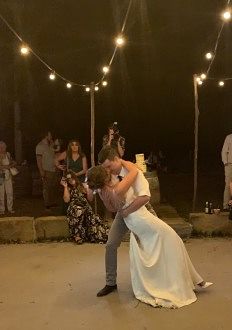 together and loved the idea of having a dance we could look
back on and be proud of.
2. How/Why did you pick your 1st Dance Song?
The song we picked was Unchained Melody by The Righteous Brothers.
This song means so much to us, we both love it and it is so romantic.
The bride also has a tattoo of some of the lyrics from this song as it is a
reminder of her grandmother who passed away, this song was one of her favourites.
3. How long before your wedding did you start your lessons?
We had our first lesson about a month before the wedding.
4. What was the most important thing you wanted to get out of your wedding dance lessons?
The most important thing for us to get out of the lessons was the confidence to do our first dance and know what we are doing and to know we look great doing it.
5. How did the dance turn out on the day?
The dance worked out really well on the day, the groom didn't step on the dress half as much
as expected. The dance was one of the top highlights, we enjoyed it so much and so did all our guests.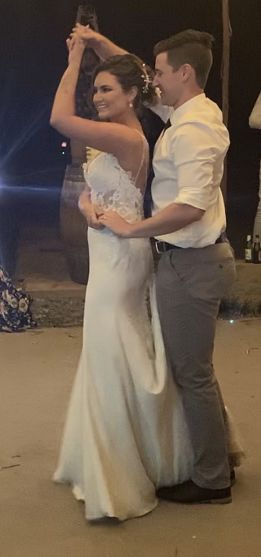 6. How did you feel straight after your dance was performed?We felt so much love. The whole time dancing we hardly kept our eyes off each other. It was truly a magical moment when we finished and could hear all the cheering from our friends and family. It was beautiful.
7. What advice do you have for future couples?
Practice your dance but not too much were it gets frustrating. Trust yourselves, it will be perfect.