Dance and your wedding day.
Incorporating dance into your wedding day
There is no doubt that dancing for the bride and groom at a wedding is a given. However, more and more often weddings today are trendy towards incorporating dance through out the wedding ceremony and the reception. Some are definitely a little more out there than others. Here is a list (but by no means extensive) of ways to incorporate dance in your wedding day.
Dance down the aisle. Some brides are after the dramatic entrance by dancing and grooving their way down the aisle with their bridesmaids, Dad or even groom.
Dance your way into the reception. This really sets the tone for your evening…. PARTY!!!! An upbeat music choice with a few carefully choreographed moves…..EPIC.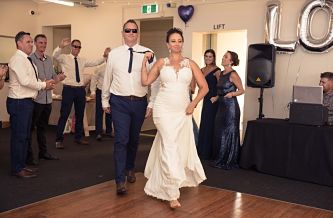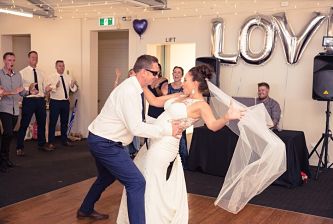 Bridal Groom dance. Pretty self-explanatory
Bridal Party dance, traditionally straight after the bride groom dance involving all members of the bridal party in a fun upbeat routine that puts smiles on faces and starts toes tapping, making them itch to get onto the dance floor too.
Bride Dad Dance (Daddy Daughter Dance) is a must for all brides wanting to give their dad the ultimate gift of dancing with their beautiful baby girl on their wedding day
Unity dance is a symbolic dance that involves the bride and groom plus both sets of parents. The bride dances with the grooms dad, the groom dances with the brides mum and the left over parents dance together. Easy!
Flash mob, usually learnt by a group before the wedding to be performed at the reception. Most popularly done by the girls as part of the hen's night celebrations
Which- ever way you choose to incorporate dance into your special day needs to truly reflect you as a couple and help to promote the kind of atmosphere you are trying to create on you day.