First Dance……what NOT to do!
The list of DON'TS for your First Dance
Being part of the wedding industry for more than 15 years it would be fair to say that I have seen more than my share of weddings. In that time I have watched some absolutely stunning 1st dances and also seen some well….. cringe worthy moments. To make sure that you don't end up in the second category here is a list of things to avoid during your bridal dance.
1. Don't forget to securely bustle your dress train.
This is a definite mood killer! Avoid being involved in what often looks like a grudge wrestling match between a you and your un-bustled wedding dress. Either loop it over your wrist or bustle it under a hidden button in the back of your skirt. You'll be pleased you did.
2. Don't dance on anything but a flat surface
Yes I know this one sounds like a no brainer but there have been occasions where I've seen couples dancing on the side of a hill, in a car park filled with rocks or in soft sand. This adds a whole new element to the words physical challenge! It also completely ruins the moment.
3. Don't be the 1st ones on the dance floor.
This DON'T is for the couple that elect that have their guests form a circle around them while dancing. Be the last ones to the dance floor! That way you avoid the SUPER awkward minutes that follow while standing there waiting for your music to start!
4. Don't just sway
Bottom line. It's not OK. It's uncomfortable for people to watch and makes the first dance feel like it goes for an eternity.
5. Don't forget to practice
Even if you don't want a choreographed dance have a little plan of what you both might like to do while you are centre stage on the dance floor.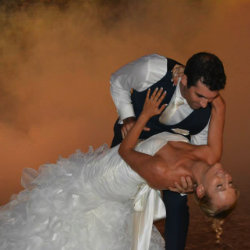 6. Don't share your 1st dance
Why would you? Are you sharing your wedding day? No?  Then why should you share this? Pick a different song for your bridal party and parents to dance to. Keep your 1st song something special for you and your other half to share together on your wedding day.
7. Don't forget to check that the DJ/Band has the correct version of your First Dance song.
Nothing would be worse that choosing to dance to "time of my life" only for "dirty bit" to pop up in the middle of the song.
8. Don't pick a song unless you LOVE it!
Many couples come to see me with a song they have selected because it what they think people "expect them to dance to". After chatting with them I find that they actually have a completely different song that they love but felt that it would be frowned upon to dance to it for their first dance.  Bridal dance songs come in all different genres. It's your wedding dance teacher's job to make it work for you.
9. Don't practice to an original song version then expect that your wedding band will play it exactly the same.
I've seen it happen time and again. Wedding bands say they play a song "exactly like the original" then it sounds completely different when played at the reception. Ask your band to give you a quick demo of how your First Dance song will sound on the night. Even just a quick recording on their smart phone then texted through will be enough to give you an indicator. If they're the Real McCoy they will have no problem doing this for you.
10.Don't forget to have a "money shot" moment included in your dance.
By this I mean a moment (or 3) in your first dance that will photograph beautifully. A dip, a spin, a lift. A moment that your photographer can capture that encompasses the magic that you will create on the dance floor.
Click here for some more info on how to create a magical 1st dance and your wedding.