Will you share your 1st dance?
To share or not to share…..(your bridal dance)? Is that a trick question question?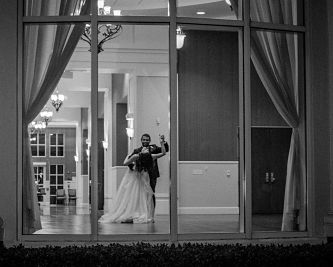 Frequently I have brides coming in for dance lessons who really have no idea which way to proceed with the lay out, order and etiquette of special dances at their wedding.  By this I mean, Bride Groom dance, Bridal party dance, Father Daughter dance etc. The most common question is: Do I share my bridal dance with my bridal party. Quite simply the answer is NO!
This is your special day. You and you finance are the guests of honour!  Why would you share what will certainly be a very special moment for you both?
 Let's address some points of concern regarding bridal dances and put this issue to bed once and for all.
1. You're freaked out by the thought of all eyes on you,
No problem – lets edit the song so that you're dancing for a shorter length of time.
2. You can't dance!
No problem – invest 3 hours (yes that's all it has to take) in lessons to give you the skills you need to glide your way gracefully through your dance.
3. You don't have the time for dance lessons
I say again, you only need 3 one hour lessons. Which are specifically tailored towards you and your strengths so that you can achieve a fab looking dance that is well within your capabilities. Best of all you can book your lessons over a time frame that suits you! Surely you can find 1 hour each month in the 3 months leading up to your wedding
4. You're awkward, have 3 left feet, no rhythm and totally un-coordinated!
Dance lessons can over-come this (not cure it mind you) but over-come it, to have you look , at a bare minimum, your best version of you on your wedding day!
Want some song ideas to get the ball rolling? Click Here